The impressive reputation of the USARC is the result of the tremendous efforts and teamwork of dedicated individuals who form the heart of the program's success. At the beginning of each summer and winter, volunteer instructors attend thorough, practical training clinics with the professional staff, and they have the opportunity to attend clinics with adaptive needs resource specialists such as doctors and rehabilitation therapists.
Equally essential are people willing to serve as members of the board of directors, special event organizers or chairpersons, and as sponsors of USARC activities and athletes. Please join this exciting, dynamic team by volunteering your time and talent and feel the freedom of empowering others!
NEW VOLUNTEERS must attend a free four-day on-snow-training clinic. The USARC has come this far as a result of the hard work of hundreds of people like you. For thirty years, volunteers have played a pivotal role in the success of our program, a program dedicated to the creation of opportunities and the redefinition of "limits." Without you, the selfless volunteer, we could reach only a fraction of those who seek this extraordinary experience.
Volunteers are required to sign up for and teach at least six midweek days.
Volunteers are subject to a background check.
Volunteers must be older than 16 years old.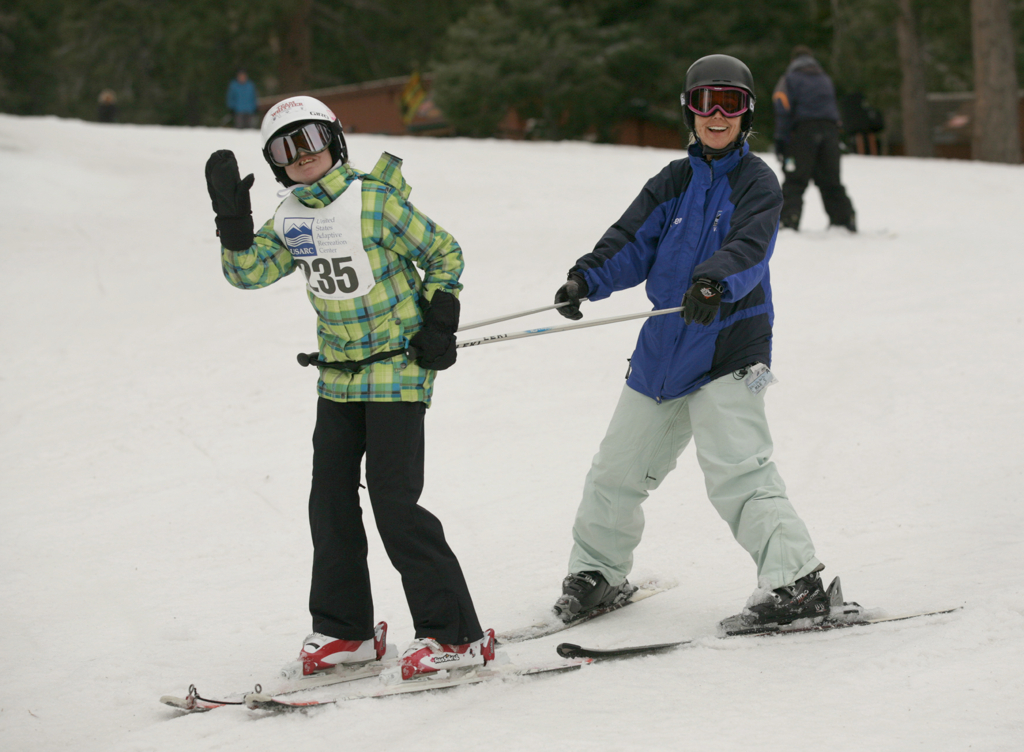 Covid-19 update for Summer 2021: Masks will be required where practical and safe. USARC will update COVID19 policies as necessary.
In July and August, volunteers can help in various capacities, from programming to special events, in Big Bear Lake. We are looking forward to your help and dedication to the upcoming summer!
Expertise in water sports activities is not necessary due to the team approach. During these sessions, duties may include helping on the dock, aboard a sailboat, water-ski boat, kayak, or fishing boat, jumping off jet skis, serving lunch, assisting participants in transferring from wheelchairs to boats or water skis and back, setting up tents, making s'mores, you name it!
New summer volunteers must attend a one-day training session before volunteering. The training sessions will be in June. We ask you to commit to six days of volunteering, including one of the Big Bear overnight sessions and four of the Big Bear single-day sessions, though you are welcome and encouraged to volunteer even more.
Volunteers are subject to a background check.
Volunteers must be older than 16 years old.
WHAT TYPE OF TRAINING WILL I RECEIVE?
dev@spikesalesnow.com
2020-05-18T23:17:04+00:00
Volunteers who work directly with participants are provided training in adaptive equipment, disability awareness, and USARC processes and procedures.
Winter Training:
New Volunteers in the Winter Adaptive Ski & Snowboard Program must complete our four-day training clinic.
Dryland Orientation
Disability Awareness
On Mountain Training
Summer Training:
New Summer Volunteers are required to complete a one-day training clinic.
Dryland Orientation
Disability Awareness
Adaptive Cycling Training
On Water Training
WHAT QUALIFICATIONS DO I NEED TO VOLUNTEER?
dev@spikesalesnow.com
2020-05-18T23:17:36+00:00
All Winter Adaptive Ski & Snowboard Program volunteers must be confident level 5 skier or snowboarder; Must ski or ride comfortably on all "green circle" and most groomed "blue square" runs.
All Summer Program volunteers do not need to enter the Volunteer Program with any particular skills or experience. USARC will conduct training for adaptive cycling, boating, and water activities.
All USARC Volunteers must be a minimum age of 16 years old to Volunteer.